Range Rover Sport review
Check out the Rover Sport review in the Telgraph …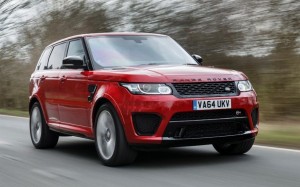 Claimed to be a capable off roader, great on the road, luxurious and able to carry seven people, the Range Rover Sport could be the only car you'll ever need
The original Range Rover Sport was something of a blunt instrument, heavy, thirsty and not all that enjoyable to drive. The second-generation model, introduced in 2013, aimed to change all that.
Sitting between the smaller Evoque and full-blown Range Rover, it blends luxury with off-road utility, with the ability to tow up to 3.5 tonnes, plus the added practicality of being offered with seven seats. Perhaps most important of all, it is intended to be Range Rover's most dynamic driver's car, to which end you can buy a high performance SVR model that accelerates from 0-62mph faster than many sports cars.
The Range Rover Sport's boot is easily big enough for most needs. A baby buggy will fit with lots of room to spare, or you can carry several large cases, plus the second row seats fold to give a completely flat load area.
It's also generously spaced for five passengers, with plenty of head and leg room for all, even with the optional panoramic roof installed, while in-car storage is taken care of with generously sized door bins, a big glovebox and a useful cubby hole under the centre arm rest.
The third row of seats (a £1,600 option) are more compromised, though, being difficult to access and short of space – they are really only suitable for children.
---
4×4 Land Rover Servicing & Repairs In Berkshire – At an affordable Price
Don forget that If you have a Land Rover, Range Rover or any other Four Wheel Drive Vehicle the NK4WD can maintain it to the highest standards, specifications and scheduling, using original equipment. This combined with our competitive labour rates approximately which is approximately half the main dealer rates (which won't invalidate your vehicle's warranty), it doesn't need to break the bank.
If however your vehicle needs more serious attention, we have both the expertise & equipment to fix it quickly and efficiently. We carry a large stock of parts and together with our years of experience, it guarantees a speedy and efficient repair. Over the years we have also invested heavily in the latest equipment and facilities to enable us to provide you with exceptionally highest standards; both in terms of the work we do and the service you receive.
Land Rover, Range Rovers and most other our Wheel Drive Vehicles have a well earned reputation for reliability and people will tell you they thrive on abuse. They are without doubt tough, however like all vehicles, regular maintenance is very much the key to trouble-free motoring so let NK4WD carry out your servicing and repairs.
Remember, our vehicle servicing is done at a fixed price and we offer a labour rate which is half or better than the main dealer rates.
Nk4WD can provide comprehensive servicing and repairs in the following areas:
Engines
Gearboxes & Clutches
Fault Diagnosis
Air Conditioning
Tyres
Performance & Tuning
MOT's
Welding
Computerised Diagnostics
At NK4WD, we have the latest computerised diagnostic equipment, specifically designed to quickly identify faults on your Land Rover vehicle and facilitate an expeditious rectification.
This equipment also enables us to carry out system resets and performance & economy enhancements.
Why not contact us today and discuss your requirements…
Contact us now on 01344 885222 or email us enquiries@nk4wd.co.uk